Our Governing Body
The school is a voluntary-aided school and it reconstituted in line with statutory guidelines on 1st February 2015.
There are 12 governors appointed:
2 elected parent governors

1 Local Authority governor

1 Headteacher

1 elected staff governor

7 Foundation governors*
*3 appointed by the Ely Diocesan Board of Education, 3 appointed by the Trustees of the Church Schools of Cambridge and 1 as a Nominee of the relevant Archdeacon
Minutes of Governing Body meetings are published here.
Latest Governors Meetings Events
Finance Committee (Autumn 1)

12

Oct

2017

10:30 am - 12:00 pm @ Head's Office
The terms of office of all governors (other than an ex-officio governor and the Headteacher) is four years.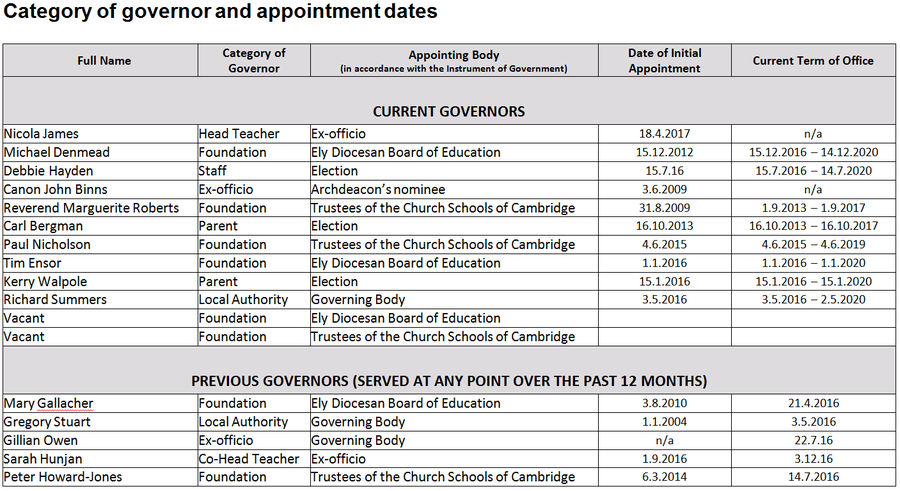 The Governing Body has in place a number of standing orders and has established committees to which it delegates day-to-day responsibility for the oversight of various aspects of the running of the school: Finance & Resources, Foundation, Personnel & Learning.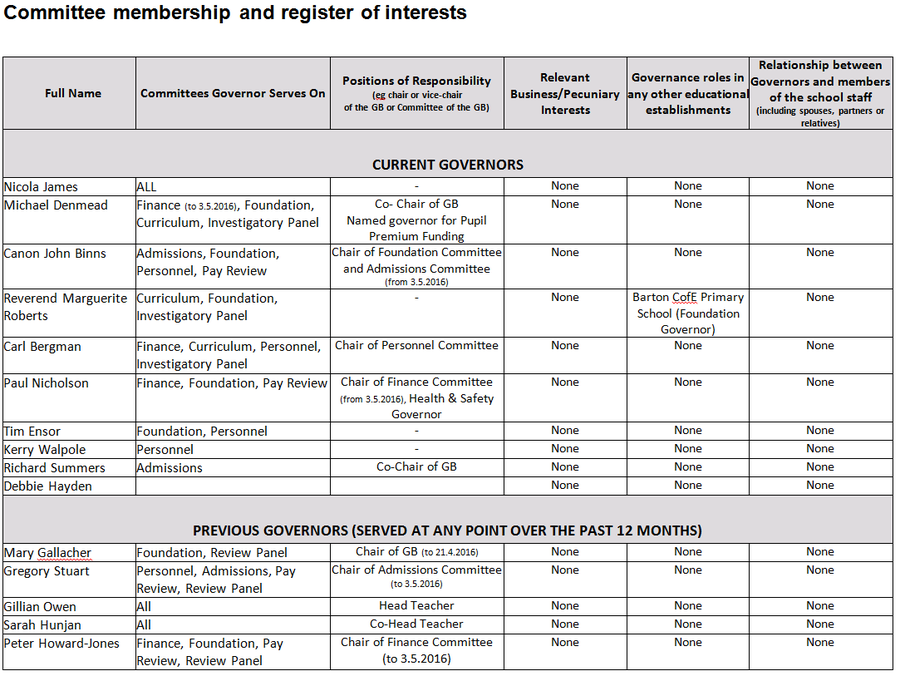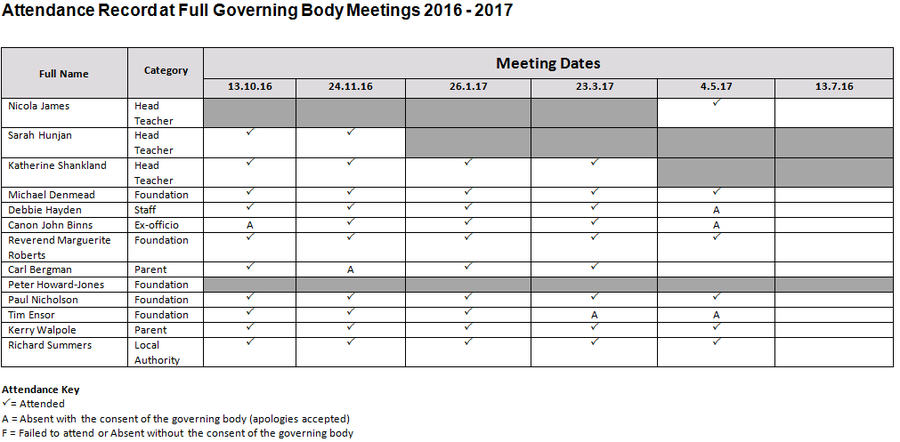 The position of Clerk to the Governing Body is currently vacant. Correspondence to the Governors should be addressed to the Chair of Governors at the school address or office@parkstreet.cambs.sch.uk.
Michael Denmead - Co-Chair of Governors

Michael is an experienced business analyst and solicitor. His area of legal expertise is commercial property and he has lead responsibility for social media marketing. Michael contributes legal expertise and marketing experience to the Governing Body. Michael leads the Curriculum Committee, supporting the Headteacher and the Leadership Team in the implementation of the curriculum and the maintenance and improvement of standards across the school.

Richard Summers - Co-Chair of Governors

Richard worked for the Religious Society of Friends (Quakers) from 1994 to 2016, ending his career as General Secretary of Quaker Life. Richard has wide experience of organisational management and is particularly interested in working with people and helping children access a wide range of learning opportunities.

Carl Bergman

Carl is a cameraman, editor and journalist with many years of international experience in broadcast news.

"I hope to ensure the children are adequately challenged according to their ability, and that they have opportunities to explore the world in new ways in school, on school trips and in activities after school. As one of your elected parent representatives, I am always available to hear any of your ideas or concerns."

Canon John Binns

John is Vicar of Great St Mary's, Trustee of The Church Schools of Cambridge, Trustee of Michaelhouse and Chair of Trustees of Partners for Change Ethiopia - an urban development agency.

"I'm especially interested in how children experience spirituality and how we can deliver effective collective worship and religious education. I support an inter-faith approach to this."

Paul Nicholson

Paul was a Choral Scholar at King's College Cambridge and subsequently became a member of the Choir of the Chapels Royal, HM Tower of London. After a number of years working in London in various arts and education roles, he returned to Cambridge and is now Head of the Chapel and Music Office at Trinity College. Paul is Chair of the Finance & Resources Committee and is also helping to fund raise for the school by setting up the 140th Anniversary Appeal.

Tim Ensor

Tim is Commercial Director at one of Cambridge's many technology companies and also attends ChristChurch, Cambridge, where he has previously served on the Church Council. Originally training as an engineer, Tim has a broad range of commercial experience including strategic consultancy and business development. He is keen to support the Headteacher in these area, to maintain and improve the school's standing and attainment.

Marguerite Roberts

Marguerite is a Foundation Governor and a Trustee of The Church Schools of Cambridge Trust. She is a retired primary school teacher with considerable experience with children with special needs. She is also ordained.

Kerry Walpole

"I'm a full-time mother to my three daughters and have been since 2010. Before that I spent 15 years working in the financial services sector with the last 8 years spent in Investment Banking. I was a Credit Risk Manager and also spent time advising clients directly about credit ratings. I managed teams of people and was responsible for all of the recruiting and training in the department. With my experience, I am well placed to help on the Personnel & Learning Committee."

Debbie Hayden

Debbie joined the Park Street team as a Teaching Assistant in September 2012. She is the current Staff Governor.

Nicola James

Nicola joined the Park Street team as Headteacher in April 2017.